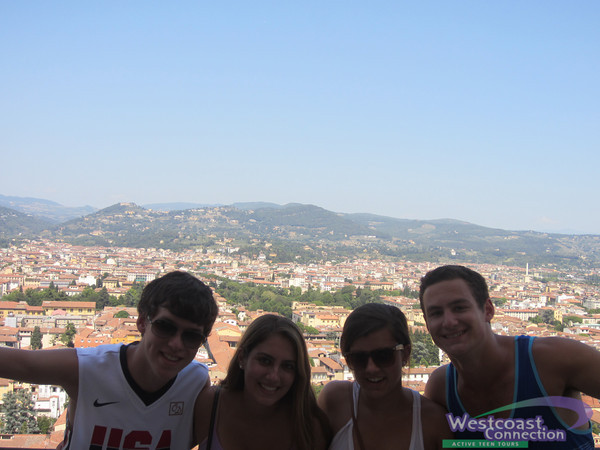 The European Experience checks in from Italy
Buon giorno from Cinque Terre,
We hope you are all doing well back at home. And for those family and friends traveling at this time, let us share with you some of the exciting places and sights we have seen in Italia since our last blog!
Our visit to Rome left us all feeling very lucky to have seen such an ancient city. Our guided tour of the Vatican and Colosseum was so cool. We were transported back in time and even got an art history lesson from our up-beat and knowledgeable guide Simona. She informed us on how Michelangelo painted the beautiful Sistine Chapel. She explained that Michelangelo took precise measurements to limit fatigue in stretching his arm upwards. He built his own scaffolding to ensure he could paint properly and comfortably. And what a job he did. Sarah, our resident Art History fan took in all the beauty of the Sistine Chapel and St. Peter's Basilica.
After some lunch near the Pantheon, our group visited the famous Colosseum. Spencer really enjoyed the Colosseum and asked some really great questions to our guide!  It sure was cool but definitely not cold. Simona explained to us that the structure used to include a special canopy to shield the spectators from the scorching Roman sun. Lucky for us we found some shady places and took on all the amazing visual architecture the Colosseum and the surrounding ruins such as the Roman Forum offered.
In true Roman style, we all had dinner in Roman fashion from the past; togas! We also took part in a great operatic show. 2 amazing opera singers serenaded us and Jenna, Rachel R, Katie and Niki got a kick out of the singers and even danced a little with the amazing baritone.
Our next day brought us back in time again but this time it was cool and cool! 12 meters underground and centuries old, we walked through a labyrinth of tunnels which is the final resting places of many Roman priests. The Roman catacombs was a really interesting sight and many of our trip members, although unsure of what to expect, enjoyed the experience. Darren was so interested he even asked our tour guide a few of his own questions for clarification and understanding!
After our tour we took a ride on the bus to just outside Rome to a water park. Hydromania was a lot of fun and many Trip Members took the opportunity to cool off and satisfy their thrill seeking side. Cindy, Sarah, Becca and Paige decided to take this opportunity to just veg out on the grass and enjoy the beautiful weather in Rome!
Day 18 brought us to the beach town of Sorrento. However, before we reached our hotel, we took a tour of the ancient town of Pompeii. Known for the eruption of Mount Vesuvius in 79 AD, the Pompeii ruins are an amazing piece of history. Literally frozen in time, we saw the buildings and house from almost 2000 years ago. The neatest part of the tour was seeing the ash covered bodies from the dreadful day of the eruption. Although Mount Vesuvius has not spewed in over 50 years, this glimpse into the past gave us all a better appreciation for mother nature and how she works.
Day 19's trip to Capri was very satisfying. With the potential threat of ominous clouds, we were worried about rough waters and missing out on swimming in the famous grottos! But, have no fear friends, Trip 49 is definitely lucky and we strongly believe in a no rain policy! We got the lovely weather and a great day on the boats and in Capri. Day 20 although similar to day 19 gave us all a great chance to see once again where the locals hang out for their vacations. Our destination was Positano and our objective was fun and fun! Water, sun, shopping and lunch were what was offered for the day and some Trip Members took all the options while others stuck to just lunch in town. Jake and Matt reported back with having a great time and even found an opportunity to kick the soccer ball around with Daniel.
As we said our goodbyes to Sorrento, we made our way to the beautiful and happening city of Florence or in Italian, Firenze. Our first glimpse of the city was the world famous leather markets. Trip Members zig-zagged in and out of the shops, stores and kiosks in search of some pelle verita (real leather). Purses, wallets, belts and gloves were all up for grabs but some even took the plunge and snatched some great deals on leather jackets. Jessica and Nizar were the first to try on and fall in love with the smooth and high quality jackets. They did have to take them off quickly though because who really needs a leather jacket on when it's 94 degrees!  Although Maya did not buy a jacket, she certainly helped others in the decision making using her excellent fashionista eye.
After dinner, we were treated to gelato at Vivoli's. Rachel He. was so excited to go to the world's famous gelateria. The Trip Members had the chance to indulge in many flavors and the ooohs and ahhs kepts coming followed by the yumms!
We started our next day with a great opportunity for those who were interested. A chance to see the Old Synagogue of Florence was offered to the Trip Members and a few took the opportunity to see the temple that was built on towards the end of the 19th century. We learned that although the synagogue was damaged during Nazi occupation in World War II, it was not destroyed and was restored eventually. After some lunch the group climbed to the top of the Duomo. From atop of the dome, the group got a stunning full access, panoramic view of Florence. Alex initially wasn't sure she wanted to climb the many stairs but realized it was a great choice and even convinced Jenna to join her! The terracotta tiled roofs complemented the rolling hills of Tuscany on the backgrounds. Ahhhhh what a sight.
Our night ended with dinner in our hands, literally. Cooking school was our stop and bruschetta, spinach and ricotta filled pancakes and handmade pasta was on the menu. Our Trip Members sure showed us they can cook so be sure to ask them what they learned while in Florence. Keep in mind, we did have the help of some of Italy's best chefs so that might have helped!
Our final day in Florence was topped off with a fantastic tour of the city. Marcello, our tour guide took us to the Duomo and explained its history and significance but it was the Accademia that most of the Trip Members were eagerly awaiting. Housing Michelangelo's famous statue, The David, the Accademia was our next stop. Marcello explained that The David is disproportionate because Michelangelo intended to have the statue outside and visible from far away. He explained that that is why his hands and feet are so much bigger in relation to the rest of his body. Following the Accademia, we had a quick stop at the Ponte Vecchio and everyone took some great pics there.
Lunch groups were formed outside the city hall in Piazza della Signora where the original David once stood; now a replica is in its place. Drew and his friends were eager to get to lunch and quickly asked Marcello for some suggestions for a great sandwich shop!
As we said goodbye to Florence yesterday, we made our way to Pisa to see the all too well known leaning tower. Great photo ops were taken and even some pictures posted on instagram have already received over 100 "likes". As we reached Cinque Terre, the excitement for the hike was already beginning. Today we hiked through 3 of the 5 villages that make up Cinque Terre (which means 5 villages). Some of the most beautiful sights on the trip gave lots of Trip Members the chance to snap some great photos. Breathtaking cliff-side houses in popping colors like pink, green and yellow really took their breath away. Allie really liked seeing all the sights in Cinque Terre and is looking forward to Lover's Lane in Riomaggiore tomorrow for some more great sights!
Well, that is all for now from our trip. We hope you are enjoying reading the blog as much as we are enjoying experiencing Europe! Stay tuned for our final days. The trip may be nearing its end but we still have lots to do and see.
Arrivaderci from La Spezia-Cinque Terre!
We will send our love from our final stop in Nice, France in a couple of days.
Until then, mucho amore-lots of love.
All of us on the European Experience
The Westcoast Blogger