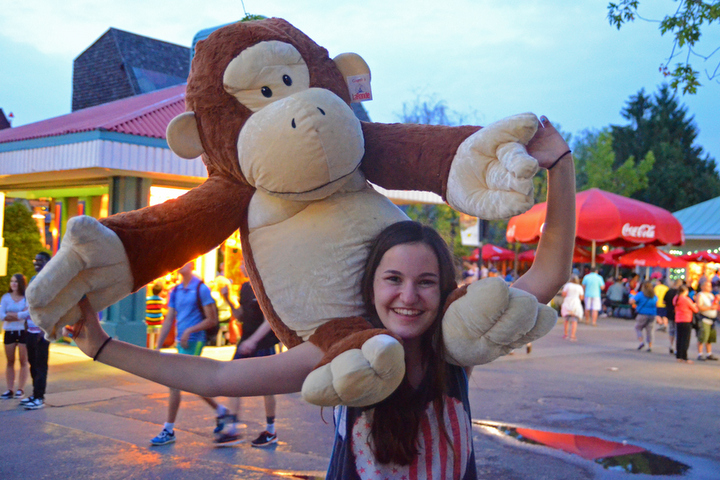 July 1st was Canada Day and our PCE Montreal crew celebrated in style! Program members dressed in decorative clothing, whether that meant wearing red and white, or sporting a jersey of their favourite Canadian hockey player. It was many members' first time to experience this special Canadian Day. Some members chose to rise and shine early and make use of the wonderful facilities at the McGill Sports and Rec Center – even trying a ladder climber for the first time in their workout careers! In the afternoon, after experiencing the annual Canada Day parade first hand along St. Catherine Street, we were off to the Biodome, where program members were able to experience 5 different ecosystems in one place. Staff member Maytal also initiated "Gotcha!" today, a Westcoast Connection favorite, where students are assigned someone they have to catch. In this particular activity they were given a word or phrase they had to get their partner to say. Partners were assigned and everyone was watching their back to stay in the game! For dinner, we headed over to Dunn's, a Montreal favorite, famous for their smoked meat sandwiches. We rounded out the evening at the Old Port watching brilliant Canada Day fireworks, with many of us enjoying an after dinner treat of soft serve or gelato!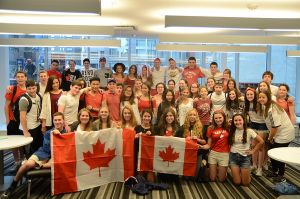 During classes on Thursday and Friday, program members had a great time attending field trips all around the city. Social Media and Marketing were off to BAM marketing and had a tour of an awesome office where all areas are themed differently. Our class was excited to see that one of the themes in a section of the office was Gotham City from Batman! In community service, we walked with our little campers down to a park by the canal and divided into 3 activity groups. Our students helped them create beautiful bracelets, work on their ball throwing skills and also tried their hand at giving manicures to some very little nails! The entrepreneurship class had the opportunity to experience a trip to a start-up company called Spherika. This local Montreal based company works on social media marketing and advertising for various companies, one being St.Viateur – famous for their Montreal Bagels! The business owners spoke to the class and offered invaluable advice. Students also teamed up with employees of the company and had a chance to share their own business ideas and analyze work done by Spherika (what they liked, what they could improve, and ways to incorporate these items into their own business ideas). Overall, it was a great first-hand experience for the program members to witness how a small start-up company operates! In 3D Animation, we had the chance to check out a company which designs and programs flight simulators for training pilots worth over $2.5 million dollars. The class even had the opportunity to practice piloting and co-piloting flight simulations into different airports!
Having seen a French flyer on the Montreal metro earlier in the week, program members Ethan and Kristina brought it to our group's attention that on Friday morning the ComicCon convention was currently in town. A group of 8 decided to check it out during student choice time in the afternoon that day, and Erica was excited to get to see David Ramsey from the television show Arrow on the CW network. Others decided to spend more time perusing Old Montreal, go for a scenic run up to the Mount Royal lookout, or check out the shopping scene. That evening, we were off to the Festival International de Jazz de Montréal, the largest international Jazz Festival in the world! After dinner and taking in some live music, the staff threw out a scavenger hunt requiring interaction and participation with locals. Program members were tasked with finding unique individuals, such as someone who could name five French cheeses in order to gain the most points! A favorite moment was when a local serenaded Vanessa W. in a foreign language!
On Saturday, program members celebrated the 4th of July! We made our way to Ile Saint Helene where we spent the day at La Ronde, a Six Flags amusement park. We rode roller coasters, got soaked at Le Splash and Katie used her ring-toss talents to win a gigantic monkey. By the end of the night, with fast-passes in-hand, program member Adam conquered his fear and rode one of the biggest roller coasters in the park!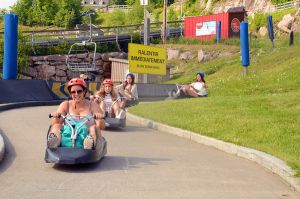 The next morning we were off to Mont Tremblant, a quaint ski village in the winter and all around good time in the summer. Arriving at the village of Mont Tremblant, we were all happy to have time to relax at the beach and enjoy the sunshine – playing volleyball, swimming, reading, and partaking in some water sports. Once we'd had our fill of the sand and sun we made our way over to luge, where we had an amazing time racing each other to the foot of the mountain. With stunning views from the top and an exciting ride down, this is an experience never to be forgotten. Right off the luge track we spotted actress Amy Adams dining with friends and enjoying the Tremblant BluesFest atmosphere. After dinner, many program members decided to indulge in the famous Mont Tremblant Beavertail – a sweet Canadian specialty! After snapping pics in the big wooden chair and grooving to the live music, we bid the town of Tremblant 'bonne nuit' and hopped on the bus back to Montreal ready for another exciting week of classes and exploring this crazy, cool city!
#toujoursfrais
Interested in taking french pre-college workshops in Montreal to earn college credit? Explore our 21-day and 28-day tours.
The Westcoast Blogger
Save